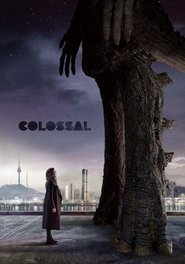 Colossal
A woman discovers that severe catastrophic events are somehow connected to the mental breakdown from which she's suffering.
Duration: 110 min
Release: 2016
HD
Thor: The Dark World
Men in Black II
Men in Black II
Kay and Jay reunite to provide our best, last and only line of defense against a sinister seductress who levels the toughest challenge yet to the MIB's untarnished mission statement…
HD
Transformers: The Last Knight
Transformers: The Last Knight
HD
In the absence of Optimus Prime, a battle for survival has commenced between the human race and the Transformers. Cade Yeager forms an alliance with Bumblebee, an English lord, and…
Captain America: Civil War
Captain America: Civil War
Following the events of Age of Ultron, the collective governments of the world pass an act designed to regulate all superhuman activity. This polarizes opinion amongst the Avengers, causing two…
Behind Enemy Lines
Behind Enemy Lines
While flying a routine reconnaissance mission over Bosnia, fighter pilot Chris Burnett photographs something he wasn't supposed to see and gets shot down behind enemy lines, where he must outrun…
John Wick
HD
Pacific Rim
Pacific Rim
HD
When legions of monstrous creatures, known as Kaiju, started rising from the sea, a war began that would take millions of lives and consume humanity's resources for years on end….
HD
Iron Man 3
Iron Man 3
HD
When Tony Stark's world is torn apart by a formidable terrorist called the Mandarin, he starts an odyssey of rebuilding and retribution.
X-Men: First Class
X-Men: First Class
Before Charles Xavier and Erik Lensherr took the names Professor X and Magneto, they were two young men discovering their powers for the first time. Before they were arch-enemies, they…
Godzilla
Godzilla
Fifteen years after an 'incident' at a Japanese nuclear power plant, physicist Joe Brody joins forces with his soldier son Ford to discover for themselves what really happened. What they…
SD
Jurassic World
Jurassic World
SD
Twenty-two years after the events of Jurassic Park, Isla Nublar now features a fully functioning dinosaur theme park, Jurassic World, as originally envisioned by John Hammond.
Exodus: Gods and Kings
Exodus: Gods and Kings
The defiant leader Moses rises up against the Egyptian Pharaoh Ramses, setting 400,000 slaves on a monumental journey of escape from Egypt and its terrifying cycle of deadly plagues.